Customise and create your own Round Rug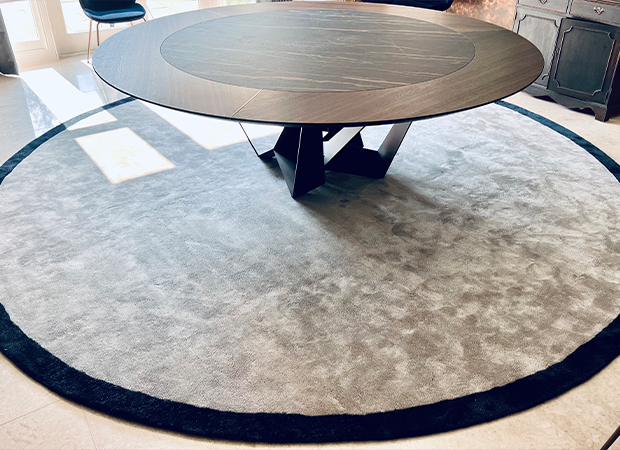 Available in an array of colors and patterns, ensuring the commissioned rug complements any existing decor or stands out as a centerpiece. A massive choice of over 1900 colours to choose from, there is a colour for everyone. Our most popular is single border or double border and with this many colours there is no limit of contrast colours available to you.
You can choose between natural Wool or Tencel Silk or combine both. The silky texture of Tencel provides an interesting effect on the border, however, any combination or mix of both fibers can be can be created of your choice. For example, Wool centre and Silky border, The rug features a beautifully crafted border that accentuates its shape, setting it apart and adding an additional layer of depth and sophistication.
Introducing a specially commissioned round rug, exquisitely crafted to elevate the aesthetics of any room. This masterpiece is a harmonious blend of tradition and modernity, meticulously shaped to a perfect circle and adorned with a distinct border that frames its elegance. A unique statement of style, this rug is a testament to exquisite craftsmanship and personalized design.
While round in shape, the diameter can be tailored to fit specific spaces, be it under a round dining table, in the center of a large foyer, or as an accent piece in a living area. Every aspect of the rug, from its core design to the border detail, is customizable, allowing for a creation that resonates with individual preferences. Circular Border range of Bespoke rugs can be commissioned in Hand-tufted or Hand-knotted.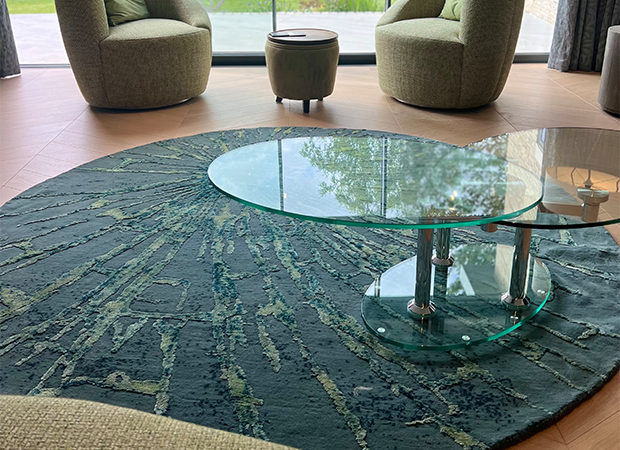 Can't see a design you like?
Bespoke Form
We can commission a design of your choice, please fill out the contact details below and one of our team members will be in touch to discuss your requirements.