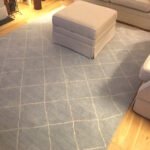 Moroccan Berber
Hand-knotted Moroccan Berber rugs are made using pure wool, using the original Persian knots method these unique one-off rugs are naturally warm and soft under foot and are made to last.
The peace and quiet of your home is particularly precious. Wool rugs are excellent at absorbing sound and prevent it from travelling tp the other rooms
Simple geometric designs which are inspired by the Moroccan tribal rugs can fit with any decor whether it's a modern contemporary look you are after or a simplistic approach.
Natural Moroccan Berber
Handwoven Moroccan Berber design rugs made using natural undyed wool, luxuriously super thick, a chunky pile which feels warm and cosy underfoot.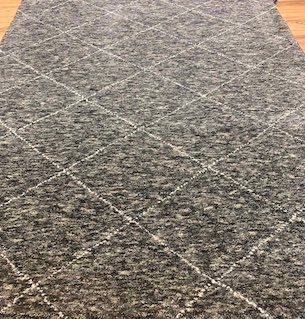 You have the option of customising these rugs in any size but also choosing from a range of other dyed colours for which we have over 1900 colours to choose from.
Positive air ions are created by electrical equipment inside our homes, there is sufficient evidence to suggest that these have a negative impact on our health. As a natural material wool creates negative ions which helps to neutralise the air.
Sizes Available: 90cm x 150cm – (3'x5′) | 120cm x 180cm – (4'x6′) | 140cm x 200cm – (4'6″x6'6″) | 160cm x 230cm – (5'3×7'7) | 200cm x 290cm – (6'6×9'6) | Custom Size available
Hand-knotted Nepal Rugs
Experience the soft touch of hand knotted wool rugs made using natural wool, it is the ideal complement for every living room. These rugs are particularly high in density and heavy in quality. With its heavy weight and superior quality it brings a feel-good effect.
The combination of fine elements in an architecturally clear design and the natural fibre in contrast gives this pretty wool rug a noble look. It is quite inconspicuous at first glance that it perfectly completes every living facility with its touch of glamor. The interesting design has been developed with refinement and is no other.
Sizes Available: 80cm x 150cm – (2'7″x4'11") | 120cm x 170cm – (4'x5'6″) | 160cm x 230cm – (5'3″x7'7″) | 200cm x 290cm – (6'7″x9'6″)
Prices from
£299
Monix Abstract
Soft colours and elegant abstract designs – Woven using high-quality 100% New Zealand Wool which is soft to the touch, and warm to feel but easy to care for and hard-wearing.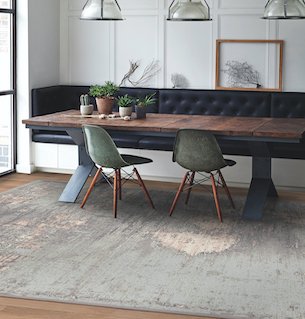 Monix is woven in the EU where quality comes first, with a pile height of 10mm and wilton construction these elegant and subtle coloured Abstract rugs can fit in any decor without dominating your room.
Using quality yarns and expert manufacturing you can be sure that a wool rug will stand the test of time, an investment for years
Sizes Available: 120cm x 170cm – (4'x5'6")  | 133cm x 180cm – (4'5×5'11") | 160cm x 240cm – (5'3×7'10) | 200cm x 300cm – (6'7×9'10) | 240cm x 340cm – (7'10×11'2) | 300cm x 400cm – (9'10×13'1) |
Prices from
£399
Multi Striped
Handmade using multi colours to create unique striped rugs – if you want to add some colour without a bold pattern these rugs are an ideal choice, also available as a hall runner.
Sizes Available: 120cm x 170cm – (4'x5'6″) | 160cm x 230cm – (5'3″x7'7″) | 66cm x 200cm Runner – (2'2×6'7)
Prices from
£199
Modern Gabbeh Rugs
Inspired by original Gabbeh rugs, these hand-woven wool with detailed design are of a tribal character with modern contempirary twist. The natural fibre of these soft woollen rugs underscores the imaginative patterns and gives each room an incomparably warm feeling of living.
Contemporarily stylish with a natural colour scheme, these woollen rugs sets a charming accent in every living space.
The harmonious composition of warm colours and appealing design tempt you to linger. The dense, soft pile heats the entire room – thanks to the heat-insulating properties of the wool, even with cold tiles and in cool corners. Broken lines in the pattern create a dynamic effect that projects the momentum and joy of life. Enjoy this beautiful piece of art and let yourself indulge in a more welcoming, cozy, and warmer environment.
Sizes Available: 80cm x 150cm – (2'7×5′) | 120cm x 170cm – (4'x5'6″) | 160cm x 230cm – (5'3″x7'7″) | 200cm x 290cm – (6'7″x9'6″)
Prices from
£199
Tribal Berber Wool
100% Wool | Moroccan Berber Design | North African Inspired | Hand-made | Super Thick
Available:  120cm x 180cm – (4'x6′) | 150cm x 240cm – (5'x8′) | 180cm x 270cm – (6'x9′)
Prices from
£329
Morf Rugs
Super-stylish rugs that are perfect for and room. It adds character and depth without dominating. Hand-made with sophistication providing 3D sculptured affect and expertly hand carved  to provide a geometric pattern.
Sizes Available: 120cm x 170cm – (4'x5'6″) | 160cm x 230cm – (5'3″x7'7″) | 200cm x 290cm – (6'7″x9'6″)
Prices from
£399
Erbom Rugs
Skillfully handmade using 90% Wool in stunning tonal palettes, these high quality rugs can become a real talking point in the room
Sizes Available: 120cm x 170cm – (4'x5'6″) | 160cm x 230cm – (5'3″x7'7″) | 200cm x 290cm – (6'7″x9'6″)
Runner: 70cm x 240cm – (2'4×7'10)
Prices from
£399