Rugmart is Surrey's premier Oriental, Persian, and modern contemporary rug gallery. One of the largest inventories of rug showrooms you will find anywhere. We carry several lines of exclusive rugs that you simply will not find anywhere else in the UK. With over 10,000 rugs in our showroom, we are considered one of the largest rug shops in the South East of England. We stock a wide range of rugs from modern, contemporary, and bespoke services through to traditional and genuine handmade Persian, Afghan, and Oriental hand-knotted rugs. If you have any questions, please visit our Guildford showroom or contact us through the website.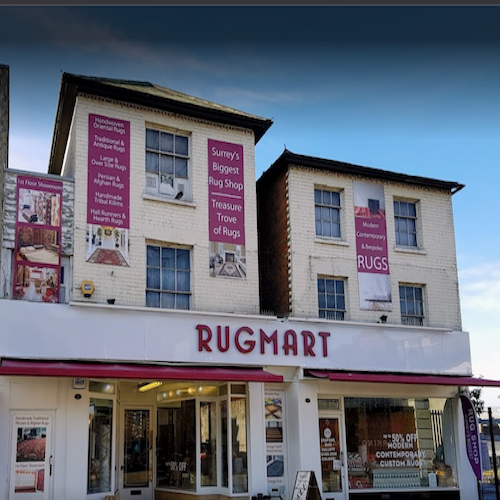 Purchased a lovely rug for my home from here, and l cannot express how happy I am. Not only with the quailty of the rug, but the exceptional customer service from the minute i walked in! Thank you, definitely will be back!
Yvonne Fletcher
2023-08-13
Very helpful, nothing too much trouble, we were unsure of the correct size, but Romain allowed us to take the rug home to see in situ if it worked. We were thrilled with the rug and definitely would not hesitate to go back when we need another rug. The choice was vast and as he was so knowledgeable, we didn't waste any of our time sifting through hundreds of rugs that weren't the correct size as he knew exactly which pile we should look at. Thank you so much and for being so trusting of us. Would definitely recommend a visit.
Rugmart provides an extensive and excellent range of rugs to suit all tastes. Prices are very reasonable for such great quality products. We received brilliant service from all staff - Romin in particular was very helpful and knowledgeable. We purchased three rugs, which all look fabulous in our home. Highly recommended!
Absolutely superb customer service. We couldn't decide between three rugs so for £50 Romin drove them from Rugmart to our house so we could see what each one looks like in our living room. Romin was polite, helpful and gave advice as to which rug might work with our furniture. He was a delight. Five stars
Felicity Neale
2023-08-01
After so many near temptations to buy a rug online I finally decided i needed to find a shop before committing to such a big purchase. I am so pleased I went to Rugmart. The selection of rugs was incredible, there really is something for everyone - style as well as budget. The staff knew everything about their rugs, it was fascinating to listen and learn (something you would never get online)! They weren't pushy for a sale at all and were sincere in wanting to find the right rug for me. I now have a divine vintage Persian rug for my living room (the after-sale and delivery was also handled fantastically) and without hesitation I will go to Rugmart for my next rug!
Wow what a shop! Hard to walk in and not purchase a rug...or in our case 5!! 😊 Romin was extremely helpful, he found us exactly what we wanted for all the rooms of our new home, offering plenty of helpful suggestions along the way. The team also delivered our rugs and lay them out in our rooms (which involved some heavy furniture lifting). In essence, highly recommend this shop and team of rug experts!
Matthew Blaize
2023-06-24
Called up this morning spoke to Roman, he knew his stuff so took a train from London to the store. Roman took me through the extensive collection of wool rugs. Ended up dropping £1,800 in 30 minutes. He drove me to Guildford station in his car saved me £135 on cab home. His advice was spot on, to position the rug horizontal half way under the bed. Can't recommended highly enough
My wife and I were delighted with our purchases and also much appreciated the helpful advice and home service provided by Romin and the team at Rugmart. We can certainly recommend this company to anybody planning to purchase rugs for their home.
Best rug store!! I had been looking for so long and am so picky plus on a tight budget and this place had so many options and really good quality. Romin was the best, so kind definitely ask for him when you go as he was so patient with us and will for sure help you find what you are looking for.
Team were super helpful with helping us pick out a large rug. Service was friendly and non pushy. Rug looks great in our home. Thank you